Options for bike shares on (and off) campus, including HOPR public bike share and discounts for Mobi by Shaw Go bike share program.
HOPR Bike Share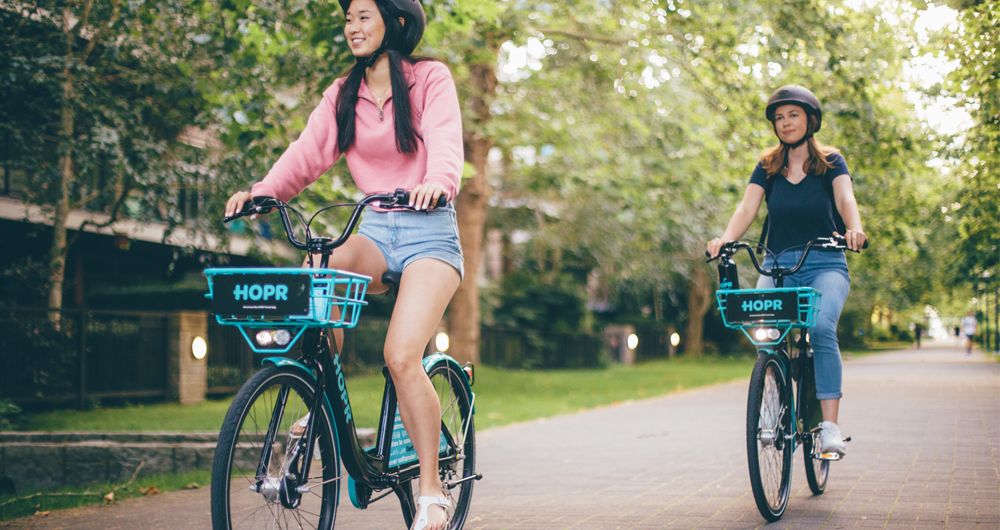 HOPR is the bike share operator at UBC Vancouver! In July 2019, HOPR launched 200 bikes that members can take (almost) anywhere on UBC campus, including academic and neighbourhood areas.
Sign Up
Visit gohopr.com/ubc for more information about the HOPR bike share program, including pricing and answers to Frequently Asked Questions.
Download the HOPR Transit App on the App Store or Google Play to start riding!
Interested in real-time HOPR data? Find their publicly available API here. Learn about the General Bikeshare Feed Specification on GitHub.
About HOPR
HOPR's parent company Cyclehop LLC, who also operate the Mobi by Shaw Go system in Vancouver, have partnered with campuses and cities across North America to deliver similar programs. They were selected through a competitive procurement-like process to operate on campus at no cost to the University.
HOPR is operating at UBC under a License Agreement with the University that lays out various legal, financial and operational requirements, including where and how HOPR bikes are used on campus. Over 80 designated bike share hubs have been installed across campus to make it easier for users to locate and park shared bikes, conserving bike rack space for other cyclists.
Mobi by Shaw Go Bike Share in Vancouver
Members of the UBC community are eligible for discounted annual memberships with Vancouver's public bike share program, Mobi by Shaw Go. These distinctive grey bikes with baskets are available at locations throughout central Vancouver, from Arbutus to Commercial Drive, north of 16th Avenue.  Please note that there are currently no Mobi docking stations at UBC.
Discounted Memberships
Discounted annual memberships are available for UBC students, faculty, staff and neighbourhood residents to encourage active transportation choices and support health and wellbeing.  Members receive unlimited use of these bikes for up to 30 minutes or 60 minutes at a time, depending on the option selected ($99 or $119).  
1 year Corporate Standard discounted membership $99 (regularly $129)
Good for one year of Mobi access. You can take as many rides as you want and the first 30 minutes of each ride are included. Rides longer than 30 minutes incur overage fees.
1 year Corporate Plus discounted membership $119 (regularly $159)
Good for one year of Mobi access*. You can take as many rides as you want and the first 60 minutes of each ride are included. Rides longer than 60 minutes incur overage fees.
Learn more and register at mobibikes.ca applying the discount codes below.
Discount Codes
Students
Discount code: ubcstudents
Discount code: ubcstudentp
Faculty
Discount code: ubcfacultys
Discount code: ubcfacultyp
Staff
Discount code: ubcstaffs
Discount code: ubcstaffp
Residents
Discount code: ubcresidents
Discount code: ubcresidentp