Meet the leadership team at Campus and Community Planning.
Michael White
Associate Vice-President
 
Michael White is a respected leader in urban planning responsible for a broad set of municipal functions including campus planning and design for UBC's Vancouver and Okanagan campuses. The current strategic focus for Michael and his team is supporting the academic mission through the themes of affordability, reconciliation, sustainability and connectivity.
Michael has been with UBC since 2014 and is an urban planning professional with 25 years of experience in North America, the Middle East and Asia. His areas of specialization include urban and regional planning, transportation planning, strategic planning, community development, and Indigenous engagement.
As a key member of the City of Vancouver's Planning Department for over a decade, Michael had a leading role in community planning programs, transit integration, and citywide policy initiatives. From Vancouver, Michael moved on to become an accomplished international planner. As one of the founding managers of the Abu Dhabi Urban Planning Council, Michael played a key role in managing and guiding the Council's Planning Policy team from inception in 2007 to 2011.  His team led the creation of a range of plans and policies, including a new capital city plan for the UAE, revitalization plans for existing communities, and pioneered public engagement in the Emirate of Abu Dhabi. After returning from the Middle East in 2011, Michael became a Principal for AECOM Canada based in Vancouver, working on projects across Canada, Abu Dhabi and the Philippines.   
Michael holds a Master of Science in Planning from the University of Toronto, a Bachelor of Arts from the University of British Columbia and is a Member of the Canadian Institute of Planners.
 
Carole Jolly
Director of Community Development and Engagement
"My vision for UBC is a place that cultivates vibrancy and animation and fosters a strong sense of community.  A place that provides opportunities for meaningful intellectual, social, and cultural interactions across campus, creating unforgettable and extraordinary campus experiences."
As Director of Community Development and Engagement, Carole is responsible for supporting the University's strategic priority of making its campus more vibrant.  This includes leveraging public space, campus landscape and infrastructure investments with cultural and social assets to develop strong community programs and create extraordinary campus experiences.  
Carole joined UBC in 2001 while working on her Master's degree and was the Director of Transportation Planning from 2006-2013. Throughout her career, Carole has invested over 12 years of volunteer work with the Planning Institute of British Columbia, serving on several committees in support of the profession and is currently a member of PIBC council. 
Carole holds a Bachelor of Arts degree with an honours in Geography from the University of Guelph (1998) and a Master's degree in Urban Planning from the University of British Columbia (2003). She is a Registered Professional Planner and a member of the Canadian Institute of Planners.
Gerry McGeough
Director, Planning and Design (University Architect)
"My vision for UBC is to create campus environments that nurture the wellbeing of UBC's community, visitors and the ecology."
Gerry and his team of planners and designers are the stewards of the built environment of UBC's three campuses. They shape the campus neighbourhoods, precincts, buildings and landscapes by leading integrated planning, policy and design processes engaging a broad set of stakeholders and experts.
With 25 years of professional practice in planning, urban design and architecture as Senior Planner for the City of Vancouver, Adjunct Professor University of Victoria, and an architect specializing in inner city development in Montreal. He is currently a board member of the North American Association of University Architects and serves on a National Capital Commission Advisory Committee.
Gerry holds a Bachelor's Degree in Architecture from McGill University (1986) and a Master's Degree in Real Estate Development from Columbia University (1992).
Grant Miller
Director of Planning, Development Services
 
"My vision for UBC is to support faculty, students, staff and residents in creating a vibrant and stimulating campus community with exceptional buildings, open spaces and amenities appropriate to our educational mission and spectacular location."
As Director of Planning, Development Services, Grant and his team are responsible for ensuring that development of the Vancouver Campus, including its residential neighbourhoods, proceeds in accordance with UBC's Land Use Plan and related policies. They coordinate the review of complex development and building applications, issue permits and perform inspections.
Grant came to UBC in 2015, with 18 years municipal planning experience in Vancouver. His experience includes current planning, policy development, area planning and transit oriented development. Most recently, during a time of unprecedented development activity, Grant led a team of Planners assessing rezoning applications for the South Division of the City of Vancouver Planning Department. He holds a B.A. in Geography from Simon Fraser University and was in the first cohort of SFU's Urban Studies Graduate program.
Janeen Alliston
Director of Communications, UBC Transit Projects
My vision for UBC is a unique and sustainable urban centre where people can achieve their full potential and live a great life.
As Director of Communications for the Rapid Transit Office Janeen is responsible for leading ongoing strategic communications and engagement in support of UBC's board approved advocacy strategy to bring rapid transit to the Vancouver campus. An integral part of Janeen's work is weaving together communications related to transit, land use and climate. In this role Janeen works closely with staff across Campus & Community Planning, UBC Communications and Government Relations, as well as a host of on- and off-campus groups and agencies.
Janeen is a senior communications, engagement and marketing professional with 20+ years of experience in the higher education sector. Janeen joined UBC in 2011 as Director, Student Communications Services and stepped into her current role in 2018. Prior to joining UBC, Janeen was the Manager, Student Recruitment and Client Services within the Marketing and Communications Department at the British Columbia Institute of Technology.
Janeen cares deeply about having a positive impact in the world and making a difference for individuals through her work. From introducing online student advising at BCIT to implementing a new approach to student communications at UBC, Janeen never shy's away from a big challenge if she knows it will lead to better experiences for people. She holds a Bachelor of Arts, General Studies and a Master of Arts in Adult Education from the University of British Columbia.
John Madden
Director, Sustainability and Engineering
"My vision for UBC is to help advance our campus community in making positive contributions towards ecological and human wellbeing such that UBC continues to be a global model for sustainability."
In this role, John directs the activities of the Sustainability and Engineering unit. Sustainability and Engineering is responsible for developing policy on resource and infrastructure management plans, operational sustainability planning and reporting, creating sustainability engagement programs that empowers staff, faculty and students to make decisions that are aligned with the sustainability principles outlined in our 20-year Sustainability Strategy. John also oversees the development of green building policy and programs and engineering services for land use planning and permitting processes. John is responsible for advising the UBC Okanagan campus efforts in sustainability and infrastructure management planning and ensuring alignment between the University Sustainability Initiative and Campus Sustainability.
John brings over 20 years of experience working for local municipal government, international agencies and non-profit consulting working to advance sustainability policies and implementation strategies. While working in the Middle East, John led efforts in the design and implementation of an innovative green building and sustainability program which was awarded the "Best Regional Sustainability Initiative" by the World Green Building Council. John is also a sessional instructor at Harvard's Graduate School of Design teaching on the subject of Sustainable Master Planning. He holds a B.A. from the University of British Columbia as well as graduate studies at UBC's School of Community and Regional Planning.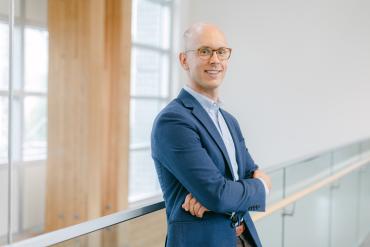 Chris Fay
Director, Strategic Policy
"My vision for UBC is a place I'm excited for my daughters to attend one day."
Chris leads the Strategic Policy team, a diverse group of professionals that help guide UBC's unique local governance. This includes responsibility for infrastructure and service delivery, relationships with outside organizations, GIS and planning data, housing policy, indigenous engagement, and UBC's relationship with the University Neighbourhoods Association.
A registered Professional Planner and Member of the Canadian Institute of Planners, Chris has been with UBC since 2012. Before that, he worked with the Government of Canada in Vancouver on Indigenous treaty negotiations, and in Ottawa at the Privy Council Office, Finance Department, and Treasury Board Secretariat as part of the Advanced Policy Analyst Program. Chris has a Master of Arts in Public Policy from Concordia University and a Bachelor of Arts in Political Science from the University of Calgary.