Enjoy the fresh air and improve your health, all while lowering your carbon footprint.
Image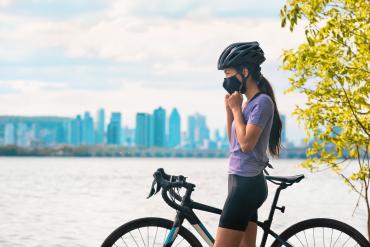 Whether you're a regular cyclist or a novice, Go by Bike Week (formerly known as Bike to Work Week) is a great way to get healthy while reducing your carbon footprint. This event takes place twice every year, once in the spring and once in the fall. 
The next Go by Bike Week will take place in Spring 2023!
Registration
Visit the HUB Cycling website to register yourself or your team. Need help registering? See this step-by-step guide on how to register.
Awards
To encourage friendly competition and recognize our cycling champions at UBC. The top teams with five or more team members will be recognized based on the following categories:
Most New Riders
Most Kilometres Cycled
Highest Average Kilometres Cycled
So grab some friends and enjoy the ride!
Go By Bike Week - Top UBC Teams for Fall 2022
The UBC community once again led among all organizations in Metro Vancouver during the Fall 2022 Go by Bike Week, with nearly 270 riders logging over 20,000 kilometres in the span of a week between October 3 and 9, 2022.
Go by Bike Week is a biyearly initiative of HUB Cycling that aims both to celebrate cycling and to encourage everyone in Metro Vancouver to give cycling a try. As part of the weeklong event, Campus and Community Planning organizes a friendly competition between UBC teams.
This year, two teams took top marks across three categories. They are:
Gaia from Earth, Ocean and Atmospheric Sciences, for longest distance cycled at 4,927 kilometres and most new participants at 19
MSL Site-Directed Commutagenesis from Michael Smith Laboratories, for highest average distance cycled at 117.6 kilometres per rider
Thank you once again to all the participants, and congratulations to the winning teams. See you in Spring 2023 for the next Go by Bike Week!
Go By Bike Week - Top UBC Teams for Spring 2022
UBC came out in force for Go by Bike Week which ran from May 30 – June 5, 2022. With over 330 riders from the UBC community signing up to participate in the latest edition of the cycling celebration. Go by Bike Week is a bi-annual event organized by HUB Cycling to encourage people to get on their bikes and make healthy, sustainable trips for themselves and for the planet.
UBC cyclists logged an astounding 20,500 kilometres over 1,700 trips—by far the highest total of any Metro Vancouver organization. This resulted in saving 4,894 kg of greenhouse gas emissions from our atmosphere!
With over 60 UBC teams, made up of students, staff and faculty alike we had a spectacular turnout. Three teams took the top honours this year through their passion for active transportation and their commitment to bringing more people into the fold. Together the top three teams made up almost 50% of the total kilometers cycled for UBC during the event. The top three teams include:
Gaia from Earth, Ocean and Atmospheric Sciences, for the longest distance cycled at an impressive 4,625 kilometres.
SHCS Road Warriors from UBC Student Housing and Community Services, for the highest average distance cycled at 85.6 kilometres per rider.
AMPEL – SBQMI from the Advanced Materials and Process Engineering Laboratory and Stewart Blusson Quantum Matter Institute, for bringing in 14 new participants to Go by Bike Week—of which seven were new to biking.
Congratulations to all participants, and see you in October for the next Go by Bike Week!
Check out these great cycling resources available for the UBC community:
UBC's bike share program
HOPR Bike Share has over 100 bikes available for public use around campus. Use HOPR bikes for getting around campus, running errands, and riding for fun.
Get $5 of Pay Per Ride credit. Use promo code: GOBYBIKE5
How to redeem:
1.    Download the HOPR Transit app and create an account
2.    Select Promos from the menu
3.    Enter and verify the promo