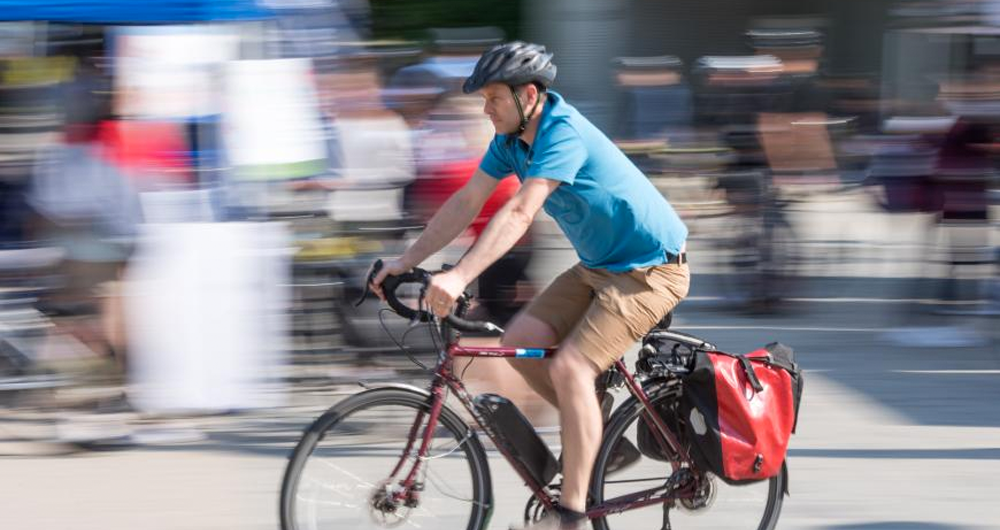 The Spring 2020 Try an E-Bike Program is postponed. We hope to offer the program in the fall, but will have to wait another few months before confirming.
In the meantime if you are interested in purchasing an e-bike check out the deals on e-bikes being offered to UBC staff and faculty by the participating bike shops. Details provided below under Participating Bike Shops.
Why Participate?
E-biking is a healthy and sustainable way to get around. People who own e-bikes replace car trips with e-bike trips more often than their pedal-power peers. Plus, the Try an E-bike Program supports UBC's sustainable transportation goals!
Who is eligible?
All current UBC faculty and staff are eligible for the Try an E-bike program.
How does the program work?
Complete the online registration. A confirmation email will be sent to you. Print it out or keep the email on your phone.
 
Read the purchasing guide and choose a participating bike shop near you. Call ahead to schedule your free rental.
 
Bring your UBC staff card and confirmation email (on your phone is fine) to the bike shop when you pick up your rental.
How long can I rent a bike for?
The free rental is for 24 hours minimum and you are eligible for one free rental per shop. Ask the shop when to return the e-bike. You may be required to pay a refundable security deposit as you would with other bike rentals.
When can I rent a bike?
Check back for the next offering.
Participating Bike Shops
Vancouver:
Richmond:
eProdigy Bikes 140-11180 Voyageur Way, Richmond B.C, V6X 3N8, 1 888 928-9328 ext. 1
Show your UBC Staff ID when you purchase your e-bike and get up to 15% off new eProdigy selected bike models AND discounts on weekly and monthly e-bike rentals. Call to make an appointment and for more details.
Purchasing Guide
Did you know you can convert an existing bike into an e-bike? The program's e-bike purchasing guide will walk you through what options are right for you when purchasing an e-bike. Also, the purchasing guide has details about bikes that are available from participating bike stores and what deals they have to offer.
For more information about e-bikes read Grin Technologies E-bike Basics Guide. It's a comprehensive guide on e-bikes written by Adam Burvill, an UBC alumni.
Participant Guide
New to cycling to campus? Check out the participant guide for information on planning your route, locking your bike at UBC, and other cycling resources.
Have a question about the program?
Reach out to active.transport@ubc.ca. The program is funded in part thanks to TransLink's TravelSmart program.