The UBC Vancouver Campus is the result of over a century of planning, design and construction. Our role is to help shape an evolving campus to meet emerging needs.
Musqueam Territory
The UBC Vancouver campus is situated on the traditional, ancestral and unceded territory of the Musqueam people.
Learn more about Musqueam and UBC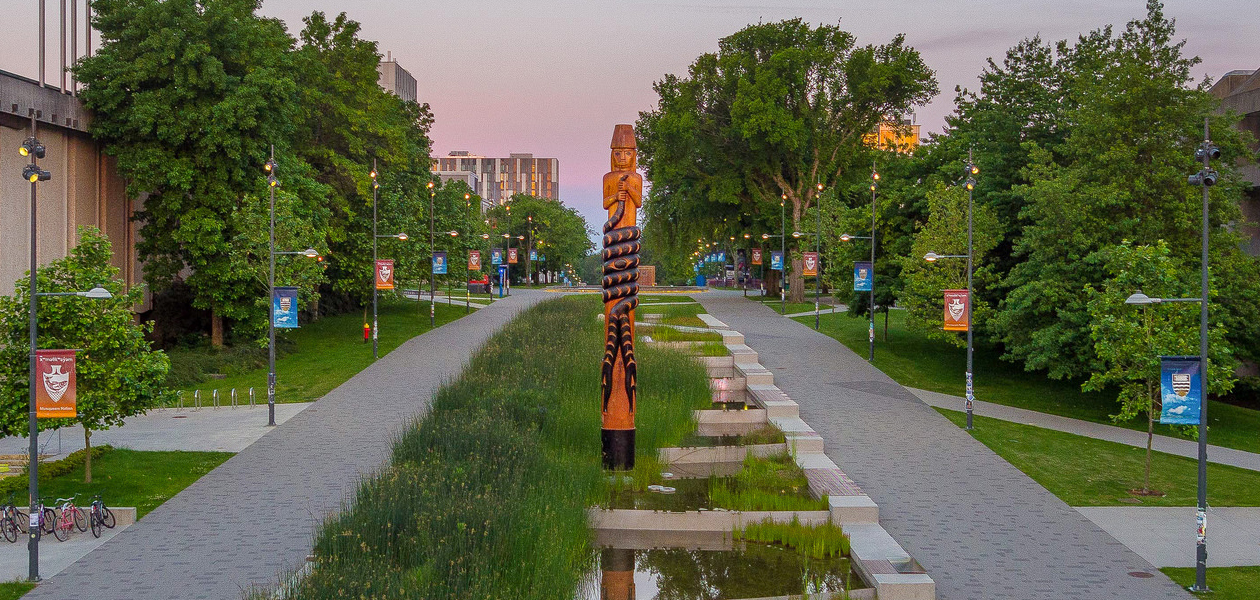 Choosing Point Grey
The Province of British Columbia located UBC in Point Grey in 1910. The site was close to — but not part of — Vancouver, the province's growing industrial and cultural centre. It offered a unique setting with commanding views over the Strait of Georgia and provided ample land for research. At the time, the Minister of Education said UBC would be: "a small city which is capable of being made one of the most interesting and beautiful in the world." A 1914 Campus Plan by Sharp and Thompson Architects provided the framework for UBC's growth.
An Evolving Campus
In 1920, the Province of British Columbia set aside 3,000 acres in Point Grey as the University Endowment Lands, with the plan to fund UBC by developing housing. The campus grew slowly and began accelerating through the 1950s to the 1980s, when UBC built much of its existing academic core. In the late 1980s, two decisions shaped UBC's future: 1) 2,160 acres of land endowment was protected and Pacific Spirit Regional Park was established, and 2) Hampton Place, the first residential community at UBC, was developed. 
Becoming a Complete Community
Since the 1980s, UBC's academic population has grown rapidly with more than 50,000 students, 14,000 faculty and staff, new facilities, student housing, and six mixed-use campus neighbourhoods.

Pre-Campus
1877
Proposal:

Initial proposal for a provincial university

1907
Funding: 

University Endowment Act provides for the funding of the proposed provincial university

1908
Establishment: 

Provincial legislature passes a new University Act, which formally establishes UBC

1910
Site Selection: 

Point Grey is selected as the most suitable location for a 175-acre university

1914
The Grand Plan: 

Sharp and Thompson Architects win international design competition for the UBC campus at Point Grey

1915
Fairview Shacks: 

UBC opens temporary headquarters at Fairview Shacks during construction at Point Grey
Early Campus
1914 to 1919
WWI: 

Start-up construction on the new university is interrupted by World War I

1922 to 1923
The Great Trek:

Nearly 1,200 students made their way through downtown Vancouver to the unfinished campus at Point Grey. The protest leads the provincial government to authorize the continuation of construction

1925
Move to Point Grey: 

UBC officially moves from Fairview Shacks to the Point Grey campus
Mid-Twentieth Century
1947 to 1951
Post-WWII Expansion: 
Following the Second World War, academic expansion begins and 20 new buildings are added to campus by 1951
1960
First Student Residence: 

Place Vanier Residence is constructed to allow students to live on campus

1964
Second Student Residence: 

Totem Park Residence is constructed to provide additional beds for the growing number of students living on campus

1968
The 1968 Master Plan: 

During this era, the planning and design of the campus departed from the original Beaux Arts vison to embrace a Modernist approach

1969
Building Program: 

UBC completes five-year $71 million building program

1972
Walter Gage Residences: 
Construction of Walter Gage Towers provide nearly 1,800 rooms for senior undergraduate students
Late 20th Century
1988
First Campus Neighbourhood: 

Hampton Place is constructed, establishing UBC's first campus neighbourhood

1992
Main Campus Plan: 

Renewed growth prompts UBC to prepare a plan to guide future development of University land, resulting in the Main Campus Plan

1994
First Community Planning Process: 
A Memorandum of Understanding is established between UBC and Metro Vancouver for UBC to undertake community planning process
1997
Official Community Plan (OCP): 

An OCP bylaw for UBC is approved by Metro Vancouver
Recent
2000
Comprehensive Community Plan (CCP):

A CCP establishes framework for approving neighbourhood plans

2001
UBC Robson Square:

First Neighbourhood Plans adopted:

A satellite campus opens at Robson Square

Neighbourhood Plans adopted:

2004
Neighbourhood Plans adopted: 

Neighbourhood Plans adopted:

2005
UBC Okanagan: 

 

Neighbourhood Plans adopted:

A UBC campus opens in Kelowna in space that had been operated by Okanagan University College

2010
Vancouver Campus Plan: 
UBC Vancouver Campus Plan (VCP) adopted
2015
Vancouver Land Use Plan: 
UBC Land Use Plan (LUP) (formerly OCP) amended