Despite our best efforts, sometimes removing trees is unavoidable. To remove a tree at UBC you need an approved tree removal permit. UBC tree removal application processes are similar to the practices undertaken in municipalities.
The notices are in chronological order for the current year. Please see the Archive page for previous years. 
August 2021: Walter Gage Road Realignment
Two ash trees (Fraxinus sp.) on the north side of Walter Gage road are to be removed due to the upcoming road realignment project. The realignment is related to the ongoing construction of the Saltwater Residences (previously known as Pacific) and accompanying redesign of the public realm. Two magnolia trees (Magnolia sp.) will be transplanted and taken to the Building Operations Nursery in south campus.
Image
June 2021: Thunderbird Residence Agronomy Road
One sweet gum tree (Liriodendron tulipifera) that has died has been removed.
June 2021: Totem Field Research Station
One weeping birch (Betula pendula) that has died from a bronze birch borer infestation and is dropping branches has been removed.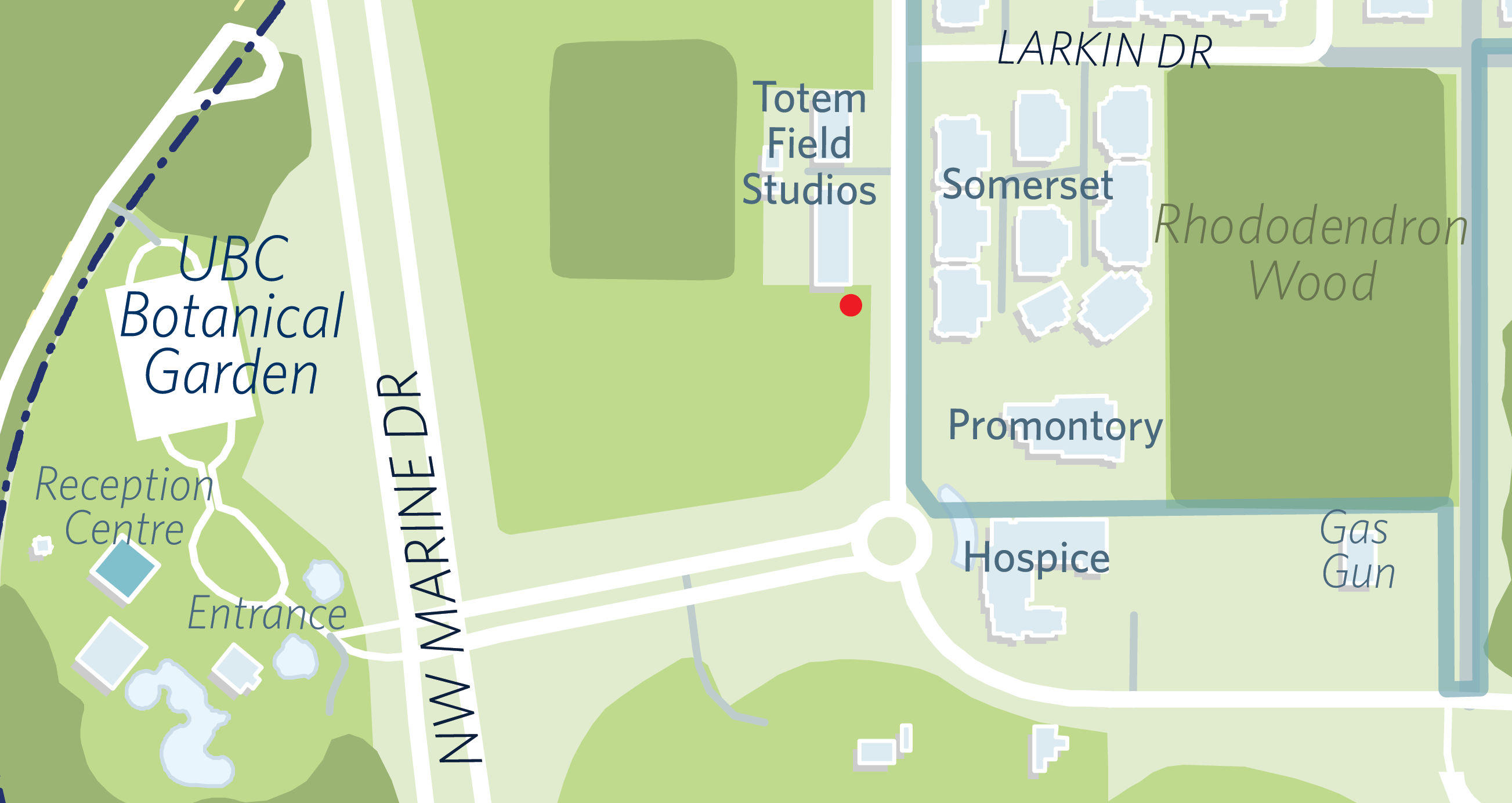 May 2021: Child Care Services Administrative Building
Four trees (1 x Japanese maple, 1 x red alder, 2 x bitter cherry) located next to the playground between Child Care Services Administrative Building and Acadia Daycare were removed as they posed a safety concern due to being dead/dying from age, drought, and fungus. 
April 2021: Sopron House
Three Himalayan birch (Betula jacquemontii) were removed from the east side of Sopron House due to safety concerns from dropping branches as the result of a bronze birch borer infestation.
April 2021: St John Hospice
One maple and one spruce were removed from the northwest of the hospice site to accommodate a new air handling unit. The unit is required as part of a mechanical upgrade to the facility to improve occupant comfort. Additional plantings will be provided to maintain the privacy of the hospice.    
February 2021: Water Main Replacement in Acadia Park
One maple (Acer sp.) was removed from the grove of trees adjacent to Acadia Park Lane, to the northwest of the Acadia modular daycares, due to conflicts with the expansion of water main service to the Acadia Park neighbourhood.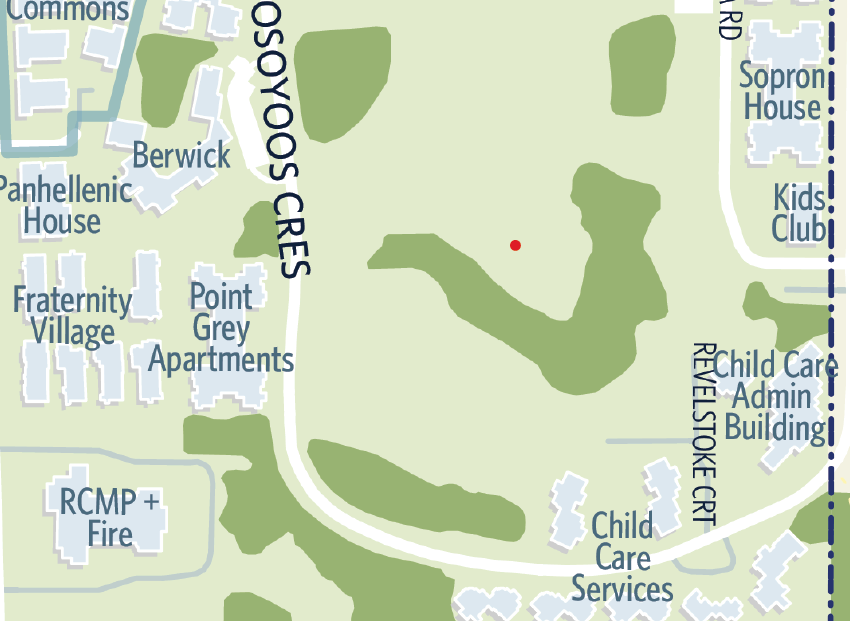 February 2021: ASC/Brock Commons Underground Services
One black locust tree (R. pseudoacacia) will be removed from the northwest corner of Brock Hall. The tree conflicts with the expansion of the Destrict Energy System (DES), sanitary sewer, and stormwater utilities required service the future Arts Student Centre at East Mall and Water Gage Road. 
As part of the neighbouring Brock Commons Phase 2 development, which includes the site of the Brock Hall Annex, new landscaping and trees will be planted.
January/February 2021: MOA Entryway
Seventeen Western hemlocks (Tsuga hertophylla) raning from 10 - 25 cm dbh were removed in late January/early February. Removal was required as twelve of the trees were dead and five were dying and unlikely to recover due to drought stress and root rot. Removal was needed as they posed a hazard to pedestrians and the Museum of Anthropology.  
Image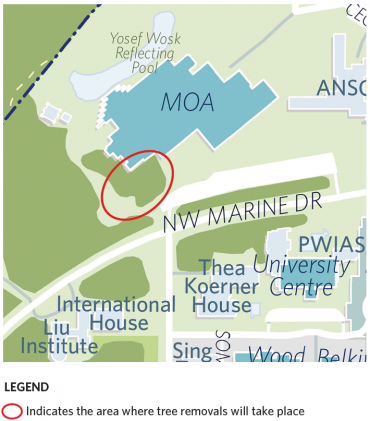 January 2021: Gage/Pacific Residence Courtyard
Thirteen trees (1 x Pine sp., 1 x Dogwood sp., 2 x Eastern White Pine, 2 x Black Pine, 3 x Horse Chestnut, 4 x Japanese Maple) will be removed from the south side of the Walter H. Gage Residence complex as part of the public realm redesign associated with the new Pacific Residence development.
The trees are in conflict with the landscape features, structures, and road realignment forming the redesign for the courtyard. Trees have been retained and protected where possible and new trees will be planted as part of the larger Pacific Residence project.