Despite our best efforts, sometimes removing trees is unavoidable. To remove a tree at UBC you need an approved tree removal permit. UBC tree removal application processes are similar to the practices undertaken in municipalities.
February 15, 2020: Wesbrook Mall and Agronomy Road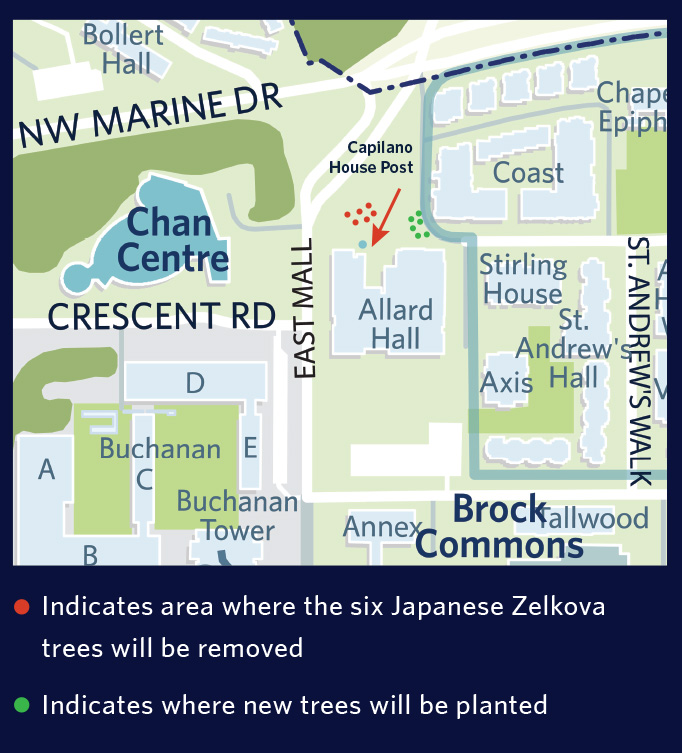 Six Zelkova serrata trees are being removed from the lawn area on the north side of the Peter A. Allard School of Law (Allard Hall). The trees are being removed in order to restore the visibility of the House Post depicting 'qiyǝplenǝxʷ' (Capilano). The removals are set to take place starting Saturday, February 15, 2020.
Why are the trees being removed?
The location of the 'qiyǝplenǝxʷ' (Capilano) House Post is intentional and significant to Musqueam, both in its symbolic relationship to the Allard School of Law, and in its overlook of the Salish Sea and visitors traveling along Chancellor Boulevard. The Capliano House Post, carved by Musqueam artist Brent Sparrow, was installed in 2012. The UBC graduation class trees were planted, many years prior to installation of the Post, to commemorate graduating classes. The effect of their growth on the visibility of the Post was not anticipated.
Through collaboration with Musqueam and Peter A. Allard School of Law, Campus and Community Planning has developed a plan to restore visibility of the Capilano House Post, provide interpretation of its significance, and universal access to a point for viewing the Post.
Six Pacific Dogwood trees (Cornus nuttallii) will be planted on the east edge of the lawn area to replace the trees that are being removed.
January 22, 2020: Wesbrook Mall and Agronomy Road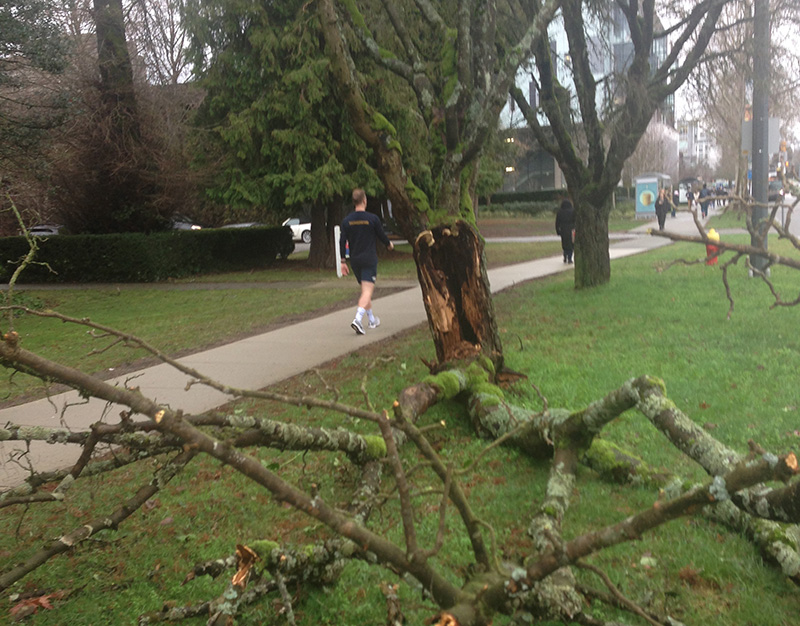 One Golden Rain Tree (Laburnum anagyroides) was removed from the west side of Wesbrook Mall near Agronomy Road. 
A Certified Arborist determined that a branch of the tree had split apart on the main trunk and it should be removed as soon as possible for safety reasons. Removal of the tree started the week of January 20, 2020.