Despite our best efforts, sometimes removing trees is unavoidable. To remove a tree at UBC you need an approved tree removal permit. UBC tree removal application processes are similar to the practices undertaken in municipalities.
The notices are in chronological order for the current year. Please see the Archive page for previous years. 
June 2022: Chan Centre for Performing Arts
One dead Japanese Zelkova (Zelkova Serrata), believed to be damaged by the 2021 summer heat dome and located to the northeast of the Chan Centre will be removed. The tree will be chipped at the university's south campus nursery. As the class tree for the graduating class of 2011, a replacement Japanese Zelkova will be planted as replacement in the fall.
Image
June 2022: 2500 Block of Melfa Lane
One dead Grand fir (Abies grandis), likely damaged by poor soil conditions and root structure, will need to be removed at the 2500 block of Melfa Lane due to potential hazards to residents and pedestrians. The tree will be carefully removed, then chipped for use at the university's south campus nursery.
Image
June 2022: AMS Student Nest - Knoll
Located on the Knoll to the west of the AMS Student Nest, one Red maple (Acer rubrum) is to be removed as it is dying due to a fungal disease, likely arising from stress due to dry conditions. The tree will be replaced by one Yoshino Cherry (Prunus x yedoensis). 
Image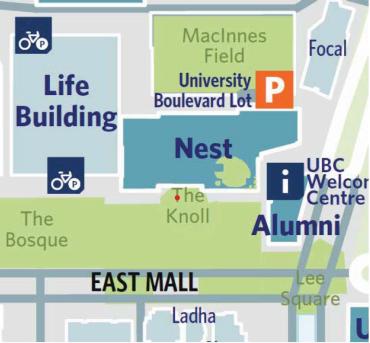 April 2022: Gateway Building
11 Katsura (Cercidiphyllum japonicum) are to be removed due to conflict with utility servicing work for the Gateway building. 4 trees in the median of University Boulevard and 1 street tree will be temporarily removed. 6 additional street trees will be removed and replaced within the redesigned building landscaping along University Boulevard.
Image
April 2022: School of Biomedical Engineering
Twelve trees located on the south side of University Boulevard are to be removed as part of the construction of the School of Biomedical Engineering building (SBME). The trees are in conflict with the building footprint. Trees to be removed: 5 x Pine (Pinus nigra), 4 x Cherry (Prunus x yedoensis), 1 x Oak (Quercus rubra), 1 x Tulip (Liriodendron tulipfera), 1 x Beech (Fagus sylvatica).
Image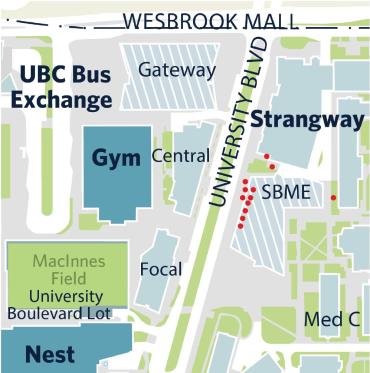 February 2022: Museum of Anthropology
Two western hemlocks (Tsuga heterophylla) west of the main entrance to the Museum of Anthropology have died from drought conditions and were removed. The tree branches were chipped and used as mulch in the university's garden beds. Replacement western redcedars (Thuja plicata) will be planted in the vicinity in early fall. 
Image