Image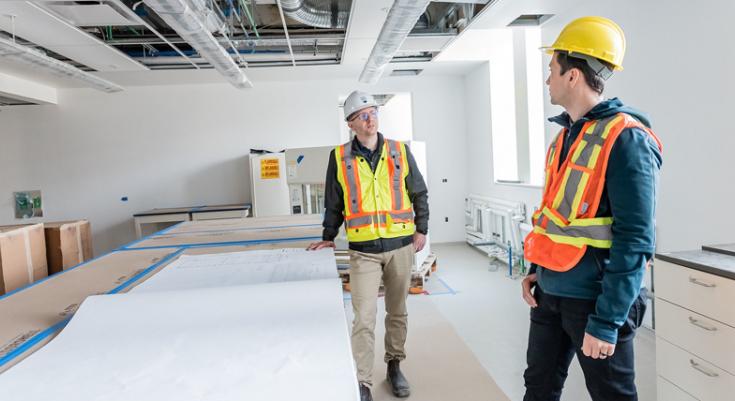 Note: This page is no longer updated and information may be out of date. For the most recent university-wide COVID-19 information, please visit https://covid19.ubc.ca/
To limit the spread of COVID-19, UBC has encouraged staff to work remotely, if possible. During this time, UBC Development Services staff is monitoring active construction sites on the academic campus. In the university neighbourhoods, the UNA will be supported by UBC Development Services staff in monitoring UNA areas, as part of their delivery of crucial services.
Construction Sites: UBC Development Services staff visit every development site regularly to ensure compliance with regulations. Construction managers at large projects have been asked to produce COVID-19 protocols for their site and to post the name and contact information of the site's safety/health officer who will address any COVID-19 related concerns.
 
Businesses: UBC Development Services licenses all businesses in UNA areas and staff are regularly monitoring their activity relative to Provincial Health Orders.
 
Parks and Public Areas: UBC Development Services staff will monitor UNA public areas through the course of their duties for general compliance with physical distancing guidance.
While UBC staff do not have the authority to issue a fine or penalty pertaining to Public Health Orders, they can provide enforcement assistance to Provincial Health Officers by:
monitoring facilities and areas closed to the public by a public health order; 
providing warnings, information and advice, including warnings to businesses and members of the public who may be acting in contravention of a public health order; and
providing information on potential contraventions for follow-up by health authorities.
If you have a concern regarding compliance with COVID-19 Public Health Orders and Guidelines at UBC you can contact Grant Miller, Director of Planning, UBC Campus + Community Planning at 604-822-6991.
For questions regarding physical distancing or self-isolation, the Ministry of Health has an information line at 1-888-COVID19 (1-888-268-4319).
For information about UBC's response to COVID-19 and links to health resources, please go to covid19.ubc.ca.
The UBC RCMP detachment can be reached at 604-224-1322.