Image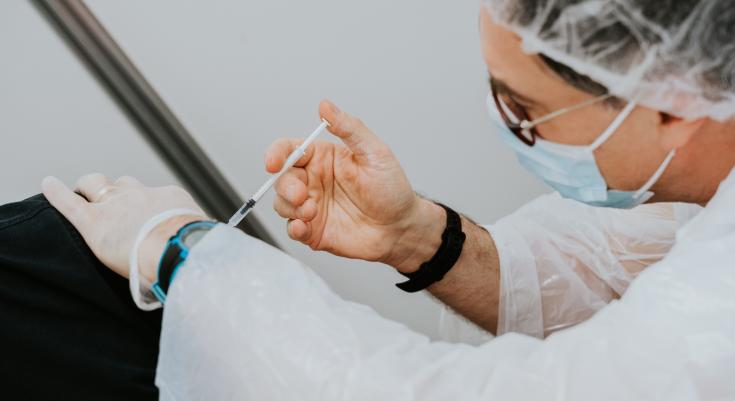 The COVID-19 vaccine clinic on the UBC Point Grey campus is in the Pharmaceutical Sciences Building at 2405 Wesbrook Mall. Here is some information to help plan your trip. 
Public Transit
The Pharmaceutical Sciences Building is well situated for access to public transit. There are bus stops across the street on Wesbrook Mall for the 33, 49, 25 and the R4 Rapid Bus and the UBC Bus Exchange is less than a 10-minute walk away along Wesbrook Mall. To plan your trip use TransLink's trip planning tool.
Driving
If you are planning to drive or get dropped-off and picked-up for your appointment, use the Thunderbird Parkade at 6085 Thunderbird Boulevard, which is right beside the Pharmaceutical Sciences Building. Here's a google map for driving instructions to Thunderbird Parkade. There is free one-hour parking available within the parkade for clinic patients. This is located in the basement level, ground level and second level of the parkade. Just follow the signs. 
There is no vehicle access to the Pharmaceutical Sciences Building from Wesbrook Mall. Do not plan to pick-up or drop-off at this location.  
Biking
Biking to your appointment is a great alternative to driving. There are plenty of bike racks along the north side of the Pharmaceutical Sciences Building to use and great bike routes to get to the UBC campus. Check out the latest regional bike map to plan your trip to your appointment.
Walking
For those living on campus, walking is the best option to get to your appointment. All neighbourhoods on campus are within a 10 – 15-minute walk of the Pharmaceutical Sciences Building.  
About the vaccination site
VCH will manage all bookings, with appointment times running daily from 9:00 a.m.-7:00 p.m. The site will be open to the community starting Monday, March 29, 2021. Please note: this clinic is not being operated by the UBC Pharmacists Clinic.
For more information about booking appointments or vaccinations in BC, please visit  B.C's Covid-19 Immunization Plan or the Immunize BC website. Or call 1-833-838-2323.