Image
UBC Forestry and Horticulture students step out of the classroom to conduct a comprehensive inventory of trees and plants to inform campus whole systems planning.
On a surprisingly cold day in March, first year Forestry students gathered around the Martha Piper Fountain, raincoats zipped up tightly. Despite the frigid weather, excitement buzzed around them as the usual lecture hall was replaced by fresh air.
As the first snowflakes began to fall, Tahia Devisscher, a postdoctoral fellow from the Faculty of Forestry and professor of Urban Forestry 101, slipped on a pair of gloves and began handing out clipboards to her students, who huddled into a circle around her.
Tahia Devisscher explains the assignment to first year Forestry students. This inventory project is an ongoing collaboration between the SEEDS Sustainability Program, Campus and Community Planning, and UBC Building Operations. Photo by Phillipe Roberge.
After discussing the assignment, Devisscher followed a group of students to supervise their work and answer any questions they might have. On this particular day, students were walking along Main Mall to observe the campus trees and to map values related to the historical and educational experience that the trees and green spaces brought to them. Instead of jotting down information such as the height and diameter of trees as they had in early assignments, this required the students to work individually and in silence, meditating and asking themselves how certain spaces made them feel.  
"If we understand how people are valuing places and what features a green space may have that make it attractive and valued, then that can inform planners. When they design green spaces they make sure that these features are included" said Devisscher.
"We're working with faculty and students at UBC Urban Forestry Program to conduct a tree inventory as part of an ongoing collaboration between the SEEDS Sustainability Program, Campus and Community Planning, and UBC Building Operations. The inventory allows us to measure change in the campus landscape, proactively manage ecological assets and measure the diverse eco-system services that they provide. It is also a very important tool that helps inform future planning of the campus," said John Madden, Director of Sustainability and Engineering with Campus and Community Planning.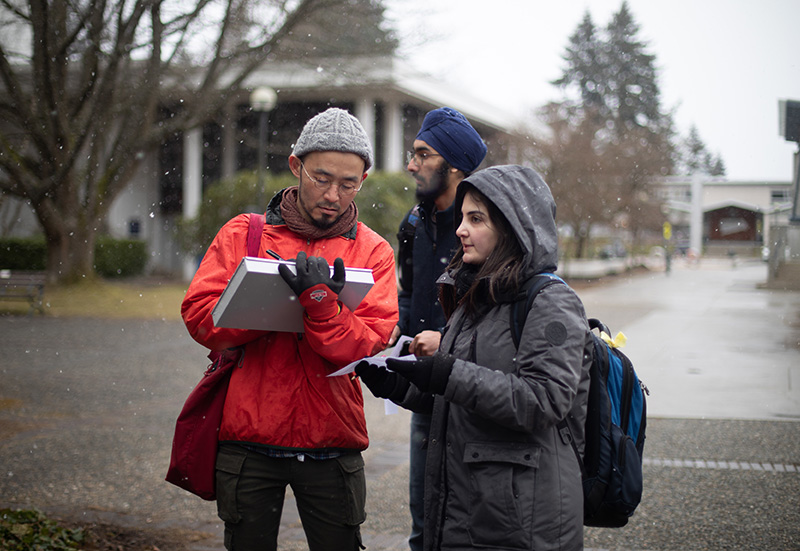 Students take notes during the tree inventory of Main Mall. Photo by Philippe Roberge.
UBC tree and biodiversity inventories
This will be UBC's first fully comprehensive tree inventory and the beginning of a larger biodiversity inventory for the campus. SEEDS Sustainability Program collaborated with Campus and Community Planning and UBC Building Operations to facilitate the project. SEEDS proposed an interdisciplinary approach to conducting the research, starting with classes from the Faculty of Forestry and UBC Horticulture Program. This spring a class of 16 UBC Horticulture Program students and another class of 61 Faculty of Forestry students kicked off the inventory.    
"The tree inventory will inform urban forest and biodiversity planning at UBC" said Devisscher.
By taking this approach, the students conduct the research as part of their course load and the resulting data will be shared with Campus and Community Planning once completed. This data will contribute to the SEEDS Biodiversity Asset Map as well as UBC's urban forest management and biodiversity planning projects.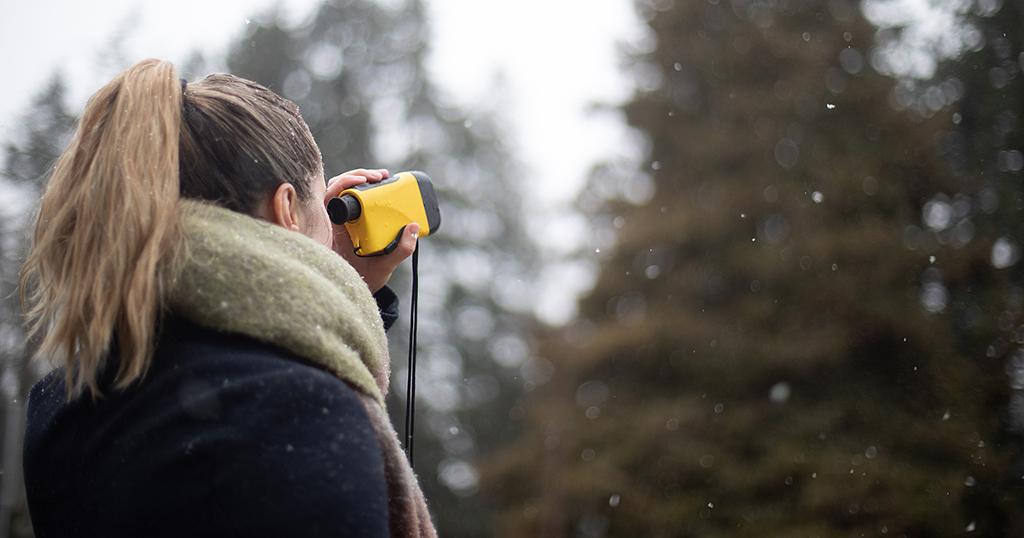 A student uses a rangefinder to measure the height of a tree. Photos by Phillipe Roberge.
The data recorded so far includes the health of each tree inventoried, as well as its height and land use. The students are using software application called i-Tree Eco, which helps them collect and analyze data such as tree bio-emissions, wildlife suitability, species condition and distribution. 
A Forestry and Horticulture collaboration
Along with the first year Forestry students, Horticulture students have also participated in the tree inventory this term. They were assigned the same areas as the Forestry students, but instead conducted an inventory on understory plants such as bushes. They observed plants under a 3-inch caliper to identify the plant life that exists under the trees that were previously inventoried.
UBC Horticulture Program students take an inventory of the understory. Photo by Phillipe Roberge.
"It's really incredible to be able to help write the story of what happens in the understory as well as the canopy, said Ashley Fraser, one of the Horticulture students conducting the inventory. "It allows us to have a better understanding of the whole ecosystem and really puts value in our tree community."
The UBC Horticulture Training Program is the only full-time horticulture training program in Metro Vancouver. It's an eight-month program offered by the UBC Botanical Garden which provides students with the skills and experience to enter the field of horticulture.
Horticulture students work in the greenhouse at the UBC Botanical Garden. Photo by Daniela Orbegoso-Campbell.
"The students need to learn the hands-on skills required for a career in horticulture, it's kind of a win-win situation," said Egan Davis, Chief Educator at the UBC Horticulture Training Program. "Our students work with UBC staff on projects such as the tree inventory, and it's significant training for them, but simultaneously the projects we're doing benefit the UBC community."
Contributing to UBC whole systems planning
One of the many functions of the tree inventory will be to inform whole systems planning at UBC, with clear urban forest management and biodiversity components.
"There's a lot of data that we will need to develop any kind of urban forest policy, so building a tree inventory of what we have on campus is essential" said Emma Luker, Planning Analyst in Campus and Community Planning.
She explains that one of the uses of the tree inventory will be to help planners understand what types of trees and plants exist on campus to better understand the ecological, social and cultural benefits they provide.
Once the first phase of the inventory is completed this spring, students will present their data and findings to stakeholders. Given the size of the UBC Vancouver campus, the inventory is being divided into nine phases with the first one covering the section of Main Mall that the Forestry and Horticulture students inventoried this spring. "We are looking at 2019 as the year of baselining a lot of our work, which includes piloting a tree inventory criteria framework with the students," said Luker.
By stepping out of the classroom and using the campus as a living lab, these students have gained valuable skills, meaningful learning experiences and contributed to the story of tree and plant biodiversity on campus.