Image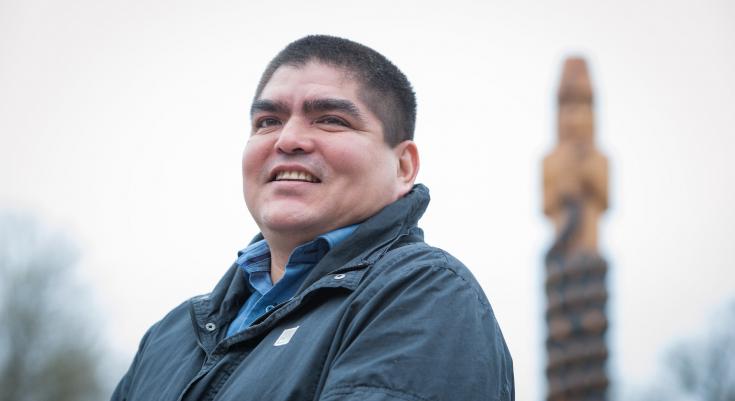 Plans are underway to install a significant new artwork by local Musqueam artist, Brent Sparrow, at UBC Vancouver.
Sparrow will create two different wood carvings featuring images of eagles, thunderbirds and salmon. These carvings will be cast in bronze and installed on concrete pillars that will be part of a weather protected walkway separating the UBC Bus Exchange from the east side of the future MacInnes Field.
The artwork will be developed over the next year and will be installed when MacInnes Field is completed in 2020. A development permit open house for the MacInnes Field and public realm upgrades is being held on Tuesday, November 27 at the Robert H. Lee Alumni Centre from 11 am to 1 pm.
A bird's eye view of the UBC Bus Exchange with weather protected walkway and MacInnes Field beyond.  For illustrative purposes only.
About the Art Concept:
The art celebrates a timeless story, a Musqueam footprint, and a gateway to UBC as a gathering place. The eagles, thunderbirds and salmon contained in the imagery are full of symbolism – a story of learners coming to the University where they grow into messengers, seekers and travelers. The artwork will be a memorable landmark feature for those entering or exiting the campus at this busy gateway.
About the Artist:
Sparrow's artwork has already made an impact on the UBC Vancouver campus. He carved the Musqueam sʔi:ɬqəy̓ qeqən (double-headed serpent post), a 34 foot tall post which was installed on campus in April 2016 as part of the UBC Centennial.
As an emerging Coast Salish artist, Sparrow began his apprenticeship in 2006, carving alongside his mother, Susan A. Point and master carver John Livingston. Since 2009 he has completed numerous artwork commissions that share his knowledge and awareness of his culture and creative traditions.
For any questions about this project contact Aviva Savelson, Senior Manager, Public Engagement, Campus and Community Planning at aviva.savelson@ubc.ca or call 604-822-0273.