Image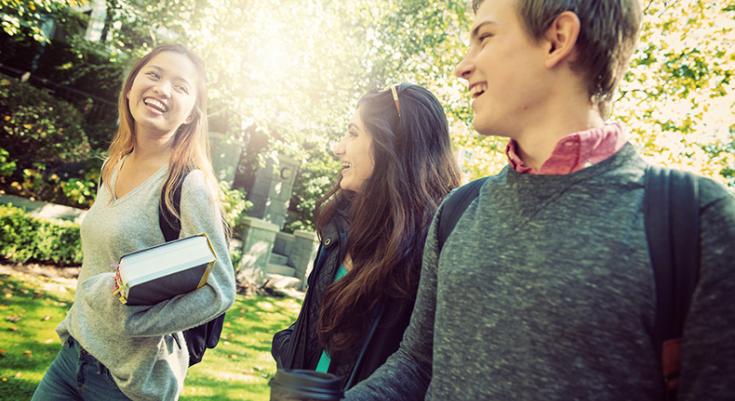 UBC's health precinct is the latest area to become smoke & vape free on campus.
Earlier in September, UBC implemented a new smoke & vape free area in the health precinct where most health-affiliated buildings at UBC Vancouver are situated. In this area, smoking or vaping of tobacco, cannabis and other vaping products is no longer permitted. It joins Library Garden as the second smoke & vape free area on campus. 
The new smoke and vape free area is bounded by University Mall, Wesbrook Mall, East Mall and Agronomy Road, which has nearly 20 buildings within it, including UBC Hospital, The Centre for Brain Health, and Life Sciences. "This is a smoke & vape free area" signage is being installed across this area to prompt people that buildings, streets, walkways, parking lots, and public space are smoke & vape free.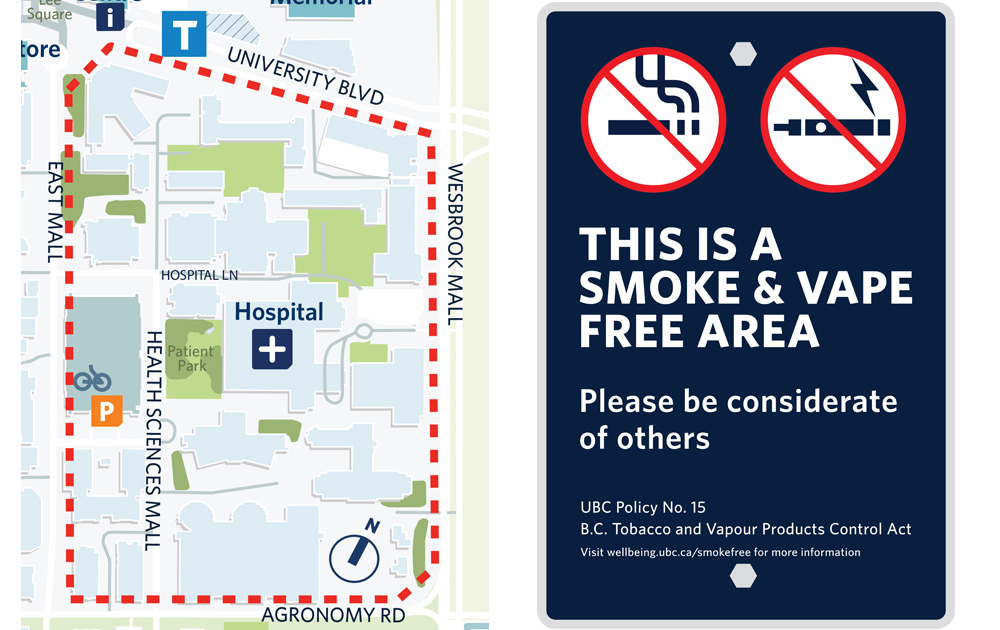 A map of the smoke & vape free area in the health precinct and new signage being installed in the area. 
UBC's commitment to health and wellbeing
A letter from stakeholders from members of the UBC Executive and Vancouver Coastal Health said "Implementing a smoke free area furthers UBC's commitment to the health and wellbeing of our people and places, as outlined in the Wellbeing Strategic Framework and to activating the Okanagan Charter, a shared call to action for partners, leaders and community members to make campuses health-promoting institutions."
Preparations for implementing a smoke & vape free area
Following the legalization of cannabis in October 2018, UBC amended Policy No. 15 (now called Policy SC2) to include smoking, vaping and cannabis. In Spring 2019, UBC Wellbeing held a series of "Dialogues on Smoking," to engage with community members (both smokers and non-smokers) about implementing a smoke free area in the health precinct location. They received strong support for the idea from students, faculty, and staff. 
Over the summer, Campus and Community Planning, UBC Wellbeing, and Vancouver Coastal Health worked with stakeholders in the precinct to set the boundaries of the area and how this information would be shared with people studying, working and visiting there. Stakeholders, including Vancouver Coastal Health, agreed that the new area expands on UBC Hospital's existing smoke and vape free zone regulations and aligns with the health-related research and services that take place in the district. 
Library Garden, a popular space for relaxing in the outdoors, is a smoke and vape free area.
A sustainable garden is smoke and vape free
Library Garden, located on the west side of I.K. Barber Learning Centre was designated smoke-free in 2018 as part of the planning and redesign for this garden. Designating Library Garden as smoke free space was a requirement for UBC to achieve a SITES designation for the garden. The SITES program is a rating system equivalent to LEED, and is used to define sustainable landscapes, measure how they are performing, and elevate the value of the landscapes as a result of their sustainable features.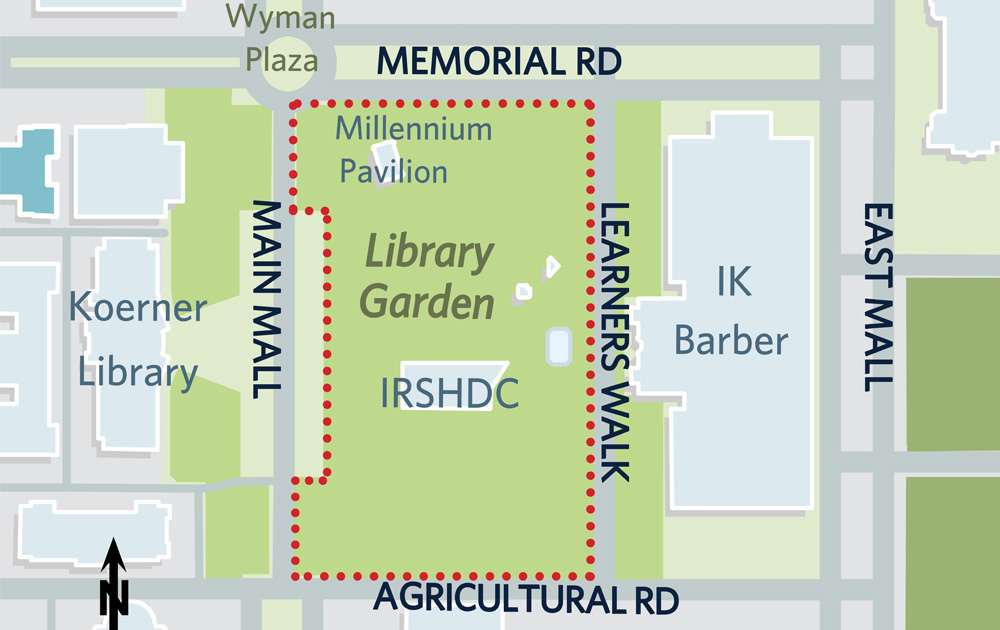 A map showing the boundaries of the smoke & vape free area at Library Garden.
To help support the community as well as visitors to campus, UBC Wellbeing has compiled smoking cessation and management support services and resources on their website. Vancouver Coastal Health also has human resource services and community care strategies for patients while they are in hospital care.
Look out for "This is a smoke & vape free" signage being installed throughout the health precinct in the next month. To report incidences of smoking in non-smoking areas please call UBC Security at 604-822-2222. 
For more information visit wellbeing.ubc.ca/smoke-free