Image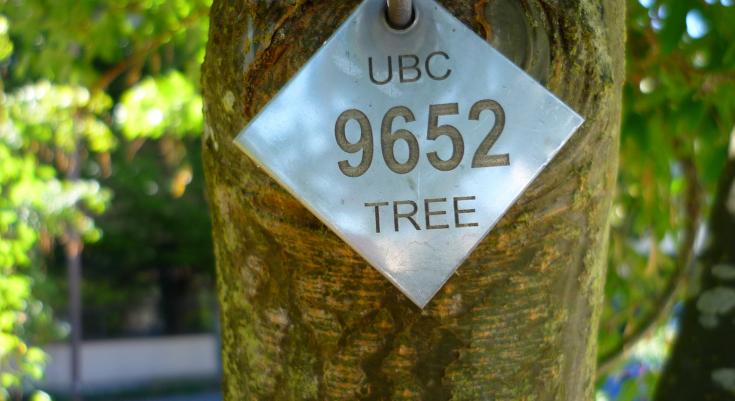 Looking after UBC's 10,000 tree takes knowledge, time, and being ready for the unexpected.
When trees on UBC's Vancouver campus need to be removed for health and safety reasons, Campus and Community Planning works together with teams from UBC Building Operations, and stakeholders in the affected area to let them know that the removal has been recommended, when it will be taking place, and alternate uses for the tree. UBC's professional arborists, who monitor the health of UBC's 10,000 native and 8,000 planted trees, are the ones who inform about a tree's health, and when needed, recommend its removal. With such a vast expanse of land on campus and thousands of trees representing diverse species, UBC's arborists have no shortage of ground to cover in their work.
UBC Horticulturist/Arboriculturist Collin Varner has worked at UBC for 34 years and recently shared some of his perspective on the job with us.
C+CP: What does an arborist at UBC do?
CV: We take care of the trees at UBC. We try to be proactive and keep a look out for trees that are not well. I spend almost half my day inspecting the grounds, together with horticulture technicians to keep an eye out for trees that need attention. I also teach disease control and native plant studies. I have written books about plant health. A good arborist should know when a tree is at risk.
C+CP: There are a large variety of species of trees at UBC and they range in terms of age, condition, and overall health. What are some of the most common reasons a tree has to be removed?
CV: The most common reason that trees are removed is due to rot. It's a natural occurrence and happens frequently in trees.
C+CP: When a tree has to be removed, often some of the smaller pieces are re-used or repurposed. What are some examples of how smaller pieces have been reused?
CV: The trees are often chipped and then we put the chips into garden beds. Or, sometimes carpenters can mill some of the bigger trees to make benches and chairs.
C+CP: Storms can be very damaging to trees. Recently in October there was a storm with some exceptionally high winds. How does a storm affect the your work?
CV: It depends. If a storm hits at night [and causes severe damage] we may have to get a crew and get a fallen tree off the road. At Acadia Park two years ago, a large Hemlock tree fell on an apartment around 2:00 am. The Hemlock came out of the forest and we couldn't detect that it had been sick. I come out to the area with a flashlight in the middle of the night in the residence to inspect the tree.
C+CP: What is something that is little known about the arborists at UBC?
CV: All arborists at UBC are very well-trained and have trade papers and university degrees. It's a good, well-educated team. UBC is one of the best places to work with 1000 acres and parks, beaches, and the air is fresh. This is a good place to be.